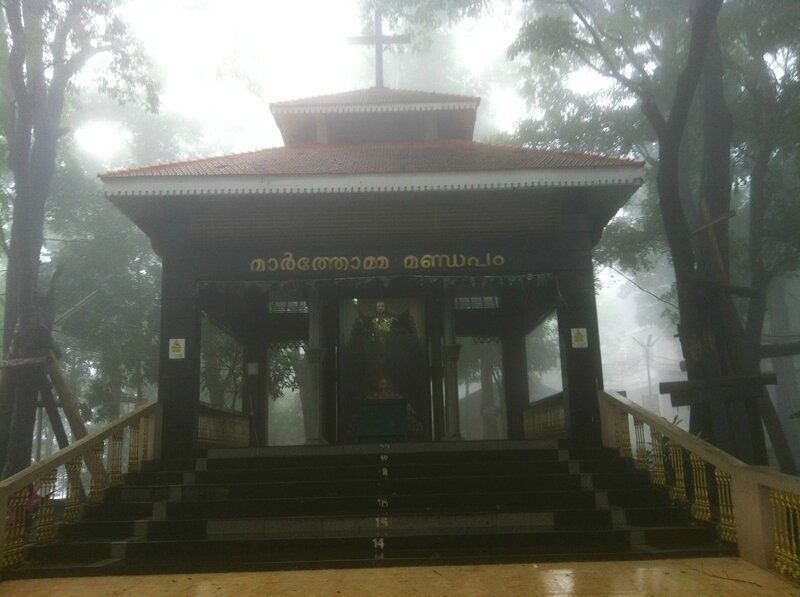 My incredible story in Malayattoor, a hidden and mysterious
place faraway from the eyes of the world which
still remains a secret ... 
THE GOLDEN CROSS OF MALAYATTOOR
India, in July 2015, the arrival in Cochin, Kerala with a torrential rain according to its own heat from the monsoon is simply delicious. It is 8 o'clock PM, we have landed from Chennai. Our driver is waiting for us, dashing, multilingual in Tamil, Malayalam, English and I guess what else? He is welcoming us with a big smile as equal as its headlights on, I was almost blinded. I was in a hurry; go to the hotel and sleep to be waken up at 6:30 AM to start the big journey. This spot haunted my mind since I had heard of the mysterious Golden Cross of Malayattoor in May 2015 on RMC Discovery Channel. This area means a union between a mountain (Mala), a river (Arr) and place (Oore). The day comes, before the chickens raised, empty stomachs since last night, with Marie-Ange, my traveling companion, both of us decided to take a chaï on the way. Kiran our driver and guide traveler more or less is waiting for us to be submitted for our wildest desires, well almost, he would have made change us two to three times our trip route in Kerala. In short, this morning, he is suggesting that we still go to the sanctuary without breakfast time. Heavy rain starts. Regardless, it is the beginning of the journey, we are on the road, ready to roll and walk in the footsteps of the incredulous apostle of Jesus: St. Thomas, the most mysterious land that enchanted him after many hard blows and tribulations. For the History part, St. Thomas have founded seven communities of believers: Kodungailoor, Palayoor, Kottakavu, Kokkamangalam, Chayal, Kollam and Niranam.
This famous place situated on the slopes of the Western Ghats in the Ernakulam district where flows the river Periyar is an international pilgrimage centre and "knighted" by the Holy See. Thousands of pilgrims from all castes and faiths flock there at the top of the hill Kurishumudi (hill of the Holy Cross), especially during the annual festival "Malayattoor Perunnal" the first Sunday after Easter.
The rain stops, we arrived. Usually prepared, this time I have neither walking shoes, just sandals, nor umbrella and the icing on the cake I had forgotten my camera at the hotel. I had my smart phone that displayed "low battery" ... Kerala had bewitched me.
Kiran lends us his huge bright red umbrella, with it, like a beacon, you could not get lost and go unnoticed. He warns us against the rise that was to take us about two hours. Not to lose moral (Marie-Ange), I took purposeful steps: forward without thinking! The weather was mild and we felt good humus smell that emanated from this slippery and fertile land. No one in front, one starts walking, the path is poorly marked and not equipped at all, after a few meters, I was going at my own pace and Marie-Ange hers. She had told me she was hungry at death. I meet a gentleman and ask if the journey is long, he outlines a broad smile and nods of the head like we were just at the beginning of our troubles! And after hell would it be able to reach paradise? I turn around and look at Marie-Ange, he would have had her be brought by an angel, so I could have been able to see her completely. I say to me: go on, this will motivate her. Half an hour later, when I turned around, I did not see her anymore. Alone, I call upon Saint Thomas in order to give us courage and strength in our ascension. In the middle of this bulky jungle, I jumped at the slightest noise, I skidded on the loose soil, steep ... In solidarity, I wanted to join Marie-Ange but the good sense told me to continue because there would be no next time ... I follow my instinct, seeing all kinds of insects, which I find very pretty I do not know if they are dangerous or not, anyway the big beast is me! I am completely phobic, hostile to this environment there. I imagined in 52, Thomas, the disciple, rejected by indigenous seeking refuge or solace in a more dense jungle as this, I thought I would cross a fierce animal.... The slope is steep, have I taken the right way? ... I can see in the distance like a cottage for rest of the pilgrims. Lonely and abandoned, I go, still a good hour. The jungle thickens, I give up before the ordeal, and I see a few meters in front of me a huge wooden cross. I make my way and as in Spielberg's Indiana Jones kind of productions, I fall face stone steps worthy of a Hollywood setting, I can even say nowadays, Bollywood one ... Actually, I thought to myself steps of a paradise ... I climbed, the air is so pure, I feel good, my heart pounding ... Without light rain, nothing, just the green vegetation and white cotton clouds, the steam ...
I climb on a rock and I see at the entrance of a building surrounding: The Golden Cross, majestic culminating several hundred meters from the river in a "chorus" founded for her. The emotion is great, I am alone and in communion. So hard to contemplate, merit is there, divine. A few moments later, a young Kerala priest dressed in white with a beard comes, inclines and makes the sign of the cross. By respect, I do not dare to approach the holy man. Then he eclipses after having crossed my glance ... "Lost" on the hill I was and I challenge by crying softly, "Priest", no living soul around, he has evaporated ... Seeking someone to guide me, I came across the site map and visit the area. I'm in joy, I really wanted that Marie-Ange shares and feels what that place could release and remind.
PHOTO COPYRIGHT LAD: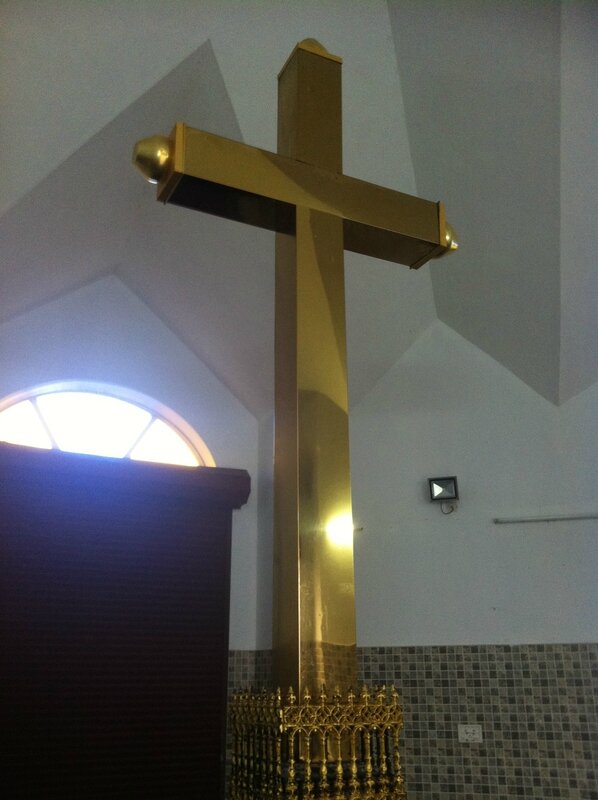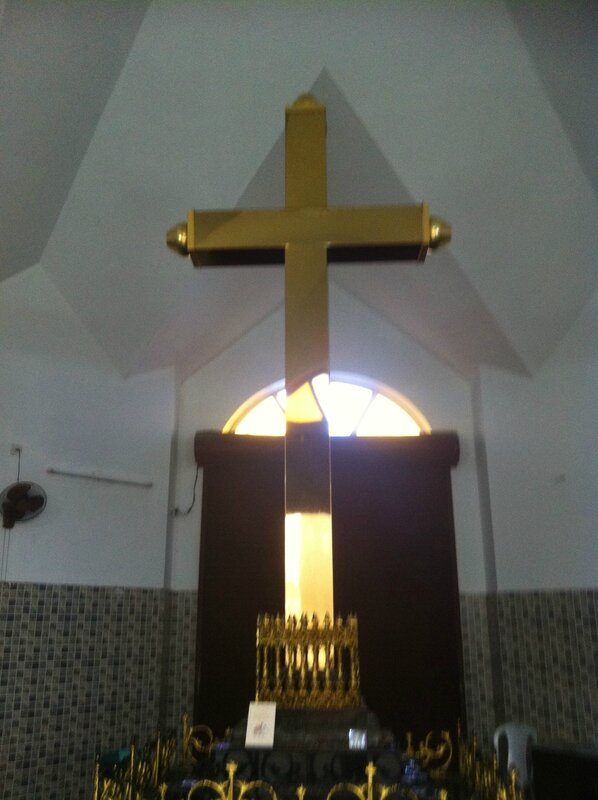 It is believed that St. Thomas knelt on the rock and has signed a cross with his finger. He prayed about this place for a long time. Later, a golden cross emerged there. It is said that people belonging to the hill tribes were attracted by the splendor of the cross. Struck by curiosity, the tribe wanted to grab the gold by brutal means. To their surprise, they saw the blood flowing from the cross. Thanks affected by this, they signaled the miracle. Thus began the historic pilgrimage Kurishumudy.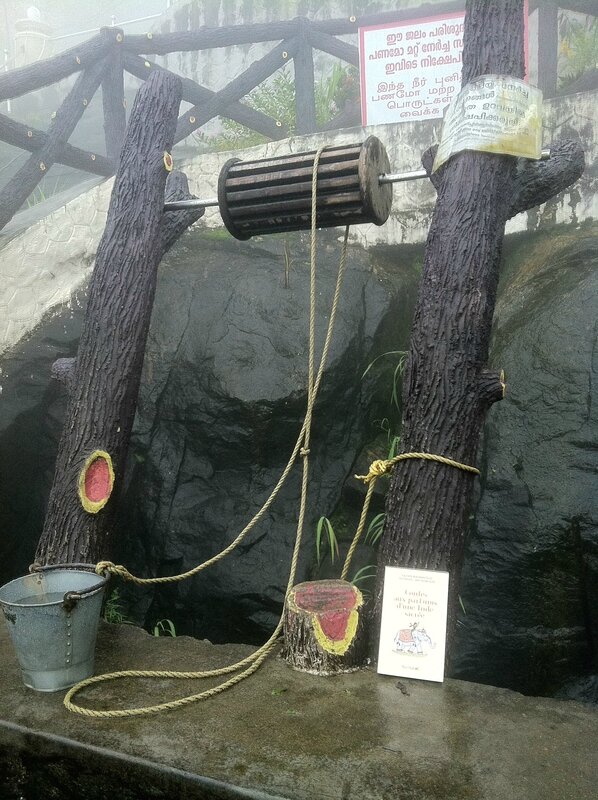 This well is located where it is believed that St.Thomas has quenched his thirst during prayer time. It is believed that St. Thomas struck on that rock when he was thirsty and that fresh water gushed immediately. Thousands of believers were miraculously healed by divine power of the water from this well. Even today, the holy water would have miraculous healing effects.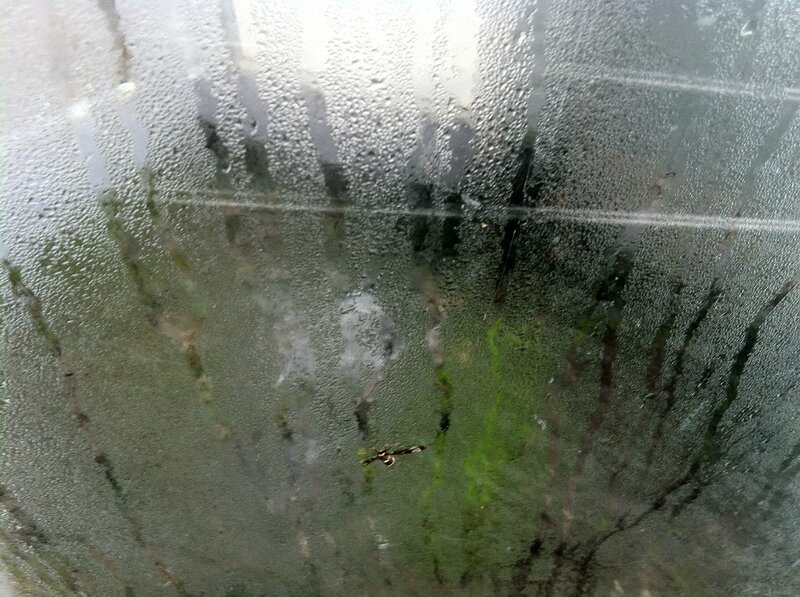 This is the rock on which fingerprints and Saint Thomas's lap traces were miraculously printed. Every year thousands of believers flock to this place for prayer and offerings.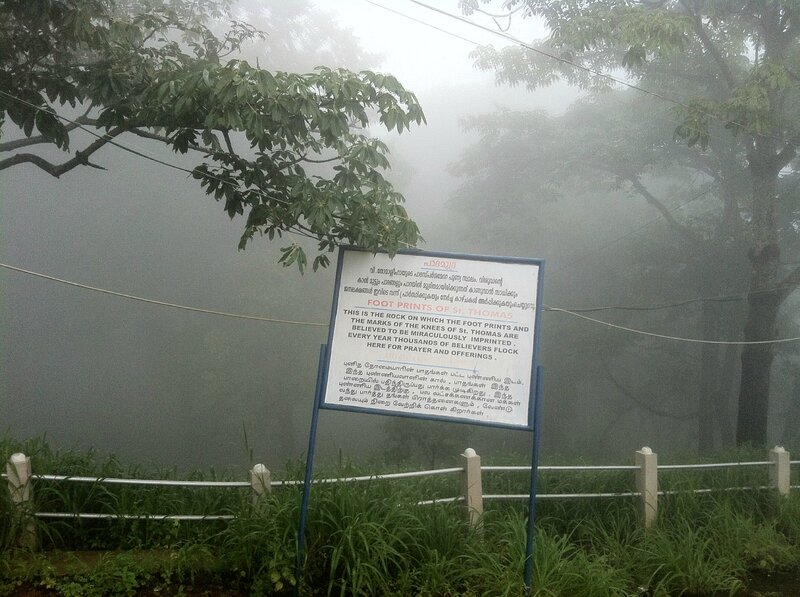 I saw a young woman getting out of breath that tells me that Marie-Ange had been sitting on a rock, she had guessed that I watched for her... .What should I do? In this place, did I have the donation to be able to raise her? Unfortunately not, even I wanted it. I was in heaven not because Marie-Ange was not there ... but because I was living a strong moment of serenity. I took advantage of the place fully. I also attend the mass where we were three persons plus two priests. From which did they appear? A true mystery… I do not see again the priest that I had seen this morning.
The rain comes back; I hasten to descend faster before a last look contemplative eye. Surprisingly, I noticed a dog that was staring at me, I say myself: it's good, it'll jump on me. I go down, it does not move a meter as if it expected me to show me the way. I follow the dog and we played a funny game both, sometimes I exceeded it, another time it was beyond me.
It took an hour to get down, much faster! Was the dog for something? I think so because I followed his "paws" and vice versa.
The dog went down quietly and went to rest. A predilection dog I thought?
Marie-angel all happy to see me inspired by my emotional and spiritual memories invited to me to quickly take the road for a kerala breakfast which was insipid after that experience I made with my faith.
I tell her that all my thoughts were for her also with me on the top there and I ask to her whether she had seen on her way a young priest dressed in white. She tells me not. Without more asking me questions to myself, I forgot it.

Of my return in France, enchanted by my various visits of this eternal India, I made several dreams but one evening I only dreamed of Malayattor and screw this priest again, who smiled me. I carried finally a resemblance to him to someone… I was talking to Marie-Ange about this and she said, look: "And if it were… Saint-Thomas?"

I smiled and said: "after all, I saw him so I can believe in
..."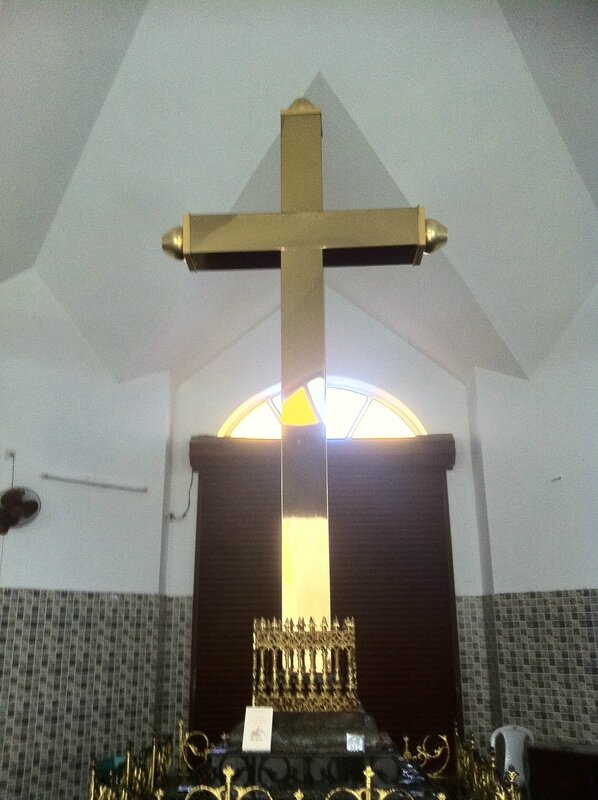 Laurent Adicéam-Dixit